J&M Classics
Latest release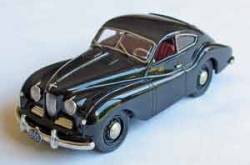 1952 JOWETT JUPITER MK1A FIXED HEAD COUPE
This model is of a Danish Jowett Jupiter, hard top & well known on the Jowett Car Club circuit
BLACK, RED, BRITISH RACING GREEN & OLD ENGLISH WHITE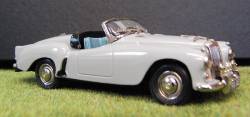 DAIMLER CONQUEST ROADSTER
(OPEN OR CLOSED HOOD)
RED, IVORY, MID GREY, LIGHT BLUE, RACING GREEN OR BLACK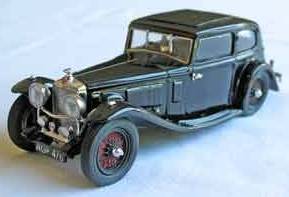 1933 ALVIS SPEED 20 2-DOOR SALOON "VANDEN PLAS"
BROOKLANDS GREEN, BLACK, MAROON
OR OLD ENGLISH WHITE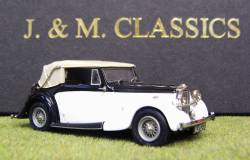 ALVIS 12/70 DROPHEAD
(OPEN OR CLOSED HOOD)
WHITE, GREY, VALENCIA BLUE,
BLACK & WHITE OR BROWN & FAWN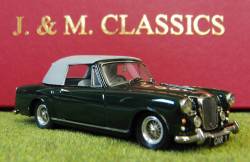 ALVIS TD21 DROPHEAD
(OPEN OR CLOSED HOOD)
BRITISH RACING GREEN
LIMITED TO 250 ONLY
THIS IS A SPECIAL VERSION OF THE CAR OWNED BY
HRH PRINCE PHILIP, DUKE OF EDINBURGH
AND BUILT TO HIS OWN SPECIFICATION.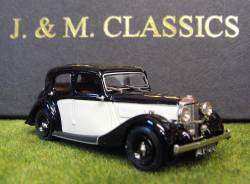 1938 ALVIS 12/70 SALOON
(OPEN OR CLOSED ROOF)
SINGLE OR TWO TONE - VARIOUS COLOURS AVAILABLE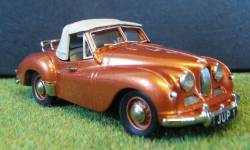 JOWETT JUPITER ROADSTER MK 1
(OPEN OR CLOSED HOOD)
RED, IVORY, BROOKLANDS GREEN, METALLIC COPPER OR TURQUOISE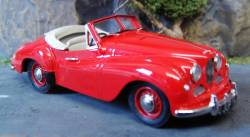 JOWETT JUPITER ROADSTER MK 1A
(OPEN OR CLOSED HOOD)
RED, IVORY, CONNAUGHT METALLIC GREEN OR TURQUOISE GREEN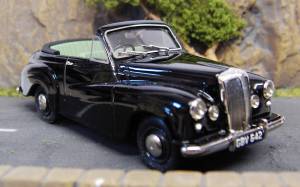 DAIMLER CONQUEST DROPHEAD COUPE
OPEN, CLOSED OR COUPE DE VILLE
BLACK, LIGHT GREEN, IVORY, SILVER GREY OR BLUE
(please NOTE WE HAVE LIMITED NUMBERS OF THIS MODEL AND SUGGEST YOU THEREFORE CONTACT US FIRST FOR AVAILABLE COLOURS)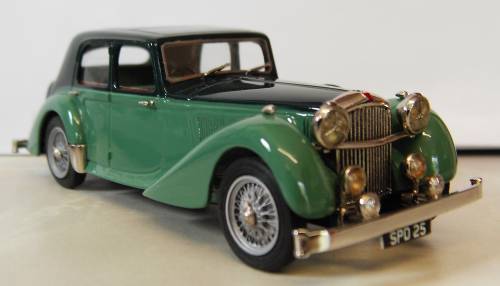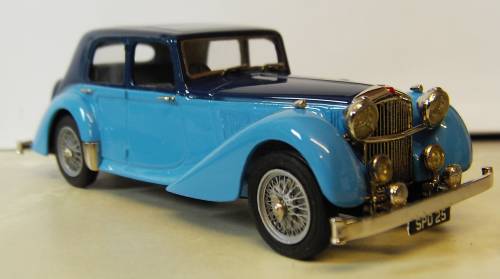 ALVIS SPEED 25 CHARLESWORTH SALOON
NEW COLOURS - 2 TONE GREEN, 2 TONE BLUE
or BROWN & FAWN (NEW COLOUR)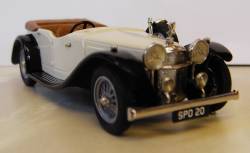 1934 ALVIS SPEED 20 "TOURER" CROSS & ELLIS
OPEN OR CLOSED HOOD
BLACK/BLACK, BLUE/BLACK, CREAM/BLACK, RED/BLACK OR GREEN/BLACK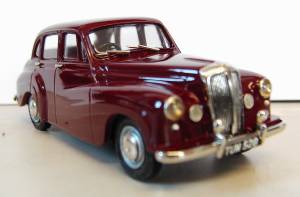 DAIMLER CONQUEST MKII SALOON
GREEN, MAROON OR 2 TONE SILVER/MAROON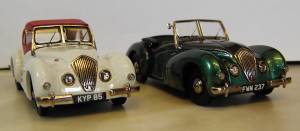 1948 HEALEY WESTLAND ROASTER
Open or Closed versions available
Various colours - Please enquire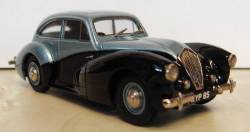 1948-49 HEALEY ELLIOTT SALOON (HIGHLITE)
2 TONE BLUE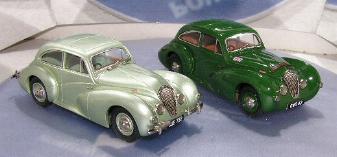 1948 HEALEY ELLIOT SALOON
Produced in civilian livery in several colours
OR
Works Rally/Race car GWD 42
Produced in the two colours, British Racing Green or Light Copper Metallic
as it was raced in different events complete with transfers for you to fix.
Alvis TA14 VAN
Light Gold metallic
Choice of un sign written or J&M Classics or H Raine & Co.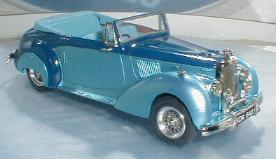 ALVIS TC21 GREY LADY DROPHEAD
Mid Blue over light met Blue.
Hood up, De Ville or Open.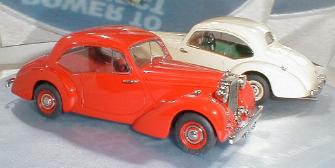 1947/48 ALVIS TA14
'DUNCAN' 2 Door Coupe
Finished in Cardinal Red -Chelsea Grey
Bermuda Blue - Highland Green
Yellow or Black
Ltd edition 400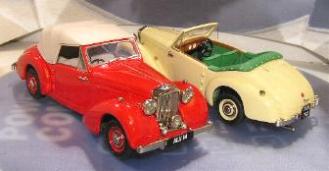 Alvis TA14 DUNCAN DROPHEAD
Open or closed
In Honeysuckle Yellow, Red, Signal Green, Safari Beige or Regency Blue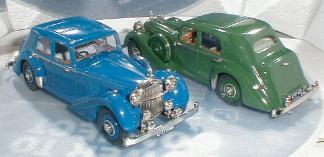 1936 ALVIS SPEED 25
CHARLESWORTH SALOON
Ltd edition 400 - £125
Finished in four colours
Royal Blue - Brooklands Green
Maroon and Black
Alvis Speed 25 Charlesworth Drophead
also available in Royal Blue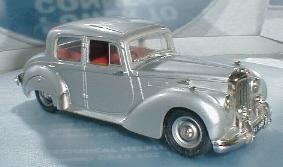 Alvis TA21 Saloon.
Available in three different colours, Silver Grey, Maroon or Black. These models are a limited edition and there is a two tone version.
Certificated
ALVIS TA14 SALOON.
Available in Leaf Green, Red, Black, two tone Black/Jasmine or Black/Maroon.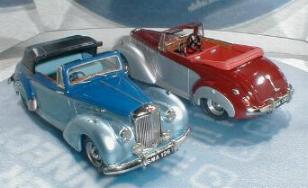 Alvis TA21 Drophead, open or closed
Available in met blue, silver grey or maroon
Certificated
Alvis TA14 Drophead (Open or closed)
Leaf Green with tan interior
Certificated
Check out the REVIEWS link at the top of the page for reviews of many of the J&M CLASSICS models.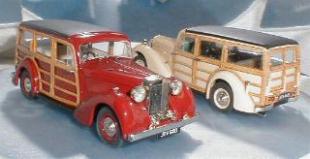 Alvis TA14 Woody Estate
Available in four colours: Maroon, Cream, Dark Green or Leaf green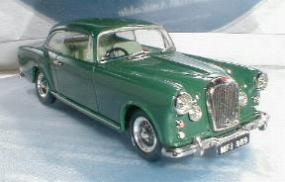 Alvis TD21 in both Series 1 (Vents in place of spotlights) and Series 2 (shown) formats. Available in either Silver Grey met, Midnight Blue or British Racing Green on both models.
Certificated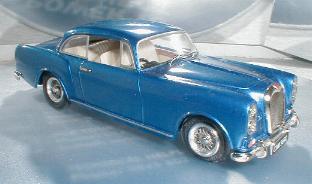 ALVIS TF21 Saloon
Metallic Blue with beige interior.
Certificated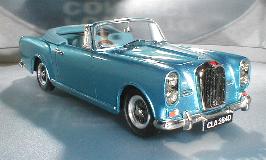 ALVIS TF21 Drophead
Metallic Blue with blue interior.
Certificated