Authentic Rally Range
Rally cars fit well into our model range and we do not always stick to the famous winners. Our first model in this range, the Sunbeam Rapier Mk3 1961 Monte Carlo Rally car has sold out. The second is the Morris 1100 Mk1 1962 Liege Sofia Leige car as driven by Pat Moss and Pauline Mayman. The third model released is the Riley RMB 1951 Monte Carlo Rally car.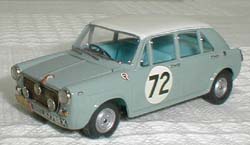 MORRIS 1100 Mk1
1962 LIEGE-SOFIA-LIEGE
CR 02 Ltd Ed 100
Pat Moss & Pauline Mayman crewed this brave little car until the engine blew in Split, but it made a valiant attempt for a brand new model range.
Check out the REVIEWS link at the top of the page for reviews of these two CROSSWAY RALLY models.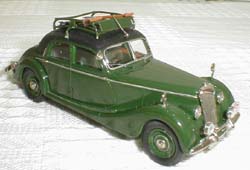 RILEY RMB
1951 MONTE CARLO RALLY CAR
CR 03 Ltd Ed 100
This is a replica of TML 255, owned and driven by Tom Dargue in the 1951 Monte Carlo Rally. The car suffered suspension damage in Paris and was forced to retire. The current owner is now restoring TML 255 to original condition.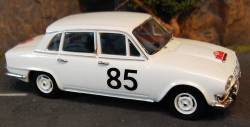 TRIUMPH 2000 MK 1 SALOON
1966 MONTE CARLO RALLY CAR
CR 04 Ltd Ed 100