CROSSWAY MODELS
Civilian Range
There are 3 pages to this range, the link to page two is at the base of this page and the link to a Customs page is at the base of Page 2.
Check out the REVIEWS link at the top of the page for reviews of many of the Crossway range
PLEASE NOTE THERE HAS BEEN A PRICE INCREASE WITH EFFECT FROM 1ST APRIL 2007
Brand new range -
Crossway Connoisseur Classics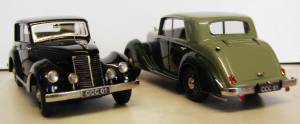 CCC01 - ARMSTRONG SIDDELEY WHITLEY 4-LIGHT SALOON
AVAILABLE IN BLACK, MAROON OR VARIOUS TWO TONES
PLEASE ENQUIRE RE AVAILABLE COLOURS
LIMITED EDITION 300 ONLY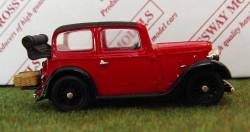 CM24 - 1936-38 AUSTIN 7 PEARL CABRIOLET
RED, GREY, GREEN, BLUE OR BLACK
(WITH HOOD IN FIXED 'COUPE DE VILLE' POSITION, AS SHOWN, OR OPEN VERSION)
LIMITED TO 600 ONLY, COVERING ALL COLOURS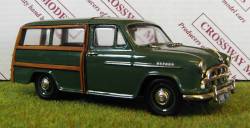 CM23 - MORRIS OXFORD SERIES II TRAVELLER
EMPIRE GREEN, BIRCH GREY, SANDY BEIGE OR CLARENDON GREY
LIMITED TO 600 ONLY, COVERING ALL COLOURS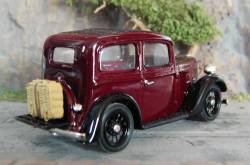 CM22 - 1936- AUSTIN 7 RUBY MK II
MAROON, GREEN, BLUE, GREY OR BLACK (ALL WITH BLACK WINGS & RUNNING BOARDS)
LIMITED TO 600 ONLY, COVERING ALL COLOURS
PLEASE NOTE THE MODEL ALSO COMES WITH A (REMOVABLE)
LUGGAGE RACK & HAMPER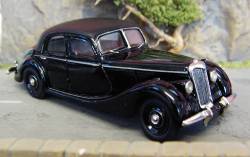 CM21 - RILEY RMB 2 1/2 LITRE SALOON
BLACK
LIMITED EDITION 300 ONLY (IN ALL COLOURS)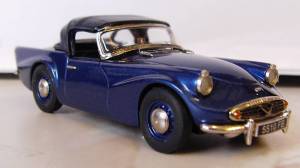 CM20 - DAIMLER SP250 (DART)
Various colours - Open, Closed hard top & Closed soft top versions
Limited to 600 only
Model with solid wheels
Model with wire wheels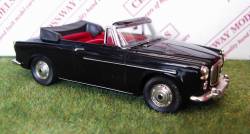 CM19A - ROVER P5 DROPHEAD (CUSTOM MODEL)
BLACK WITH RED INTERIOR
LIMITED EDITION 30 ONLY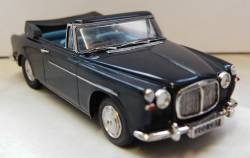 CM19 - ROVER P5 PANELCRAFT DROPHEAD
LIGHT NAVY
LIMITED EDITION 300 ONLY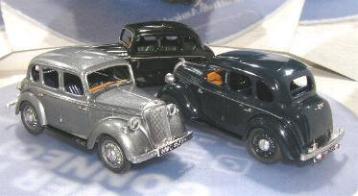 CM18 - 1939/47 WOLSELEY 8 SALOON.
Available in Connaught Green,
Trafalgar Blue, Black and French Grey.
Limited Edition 300 ONLY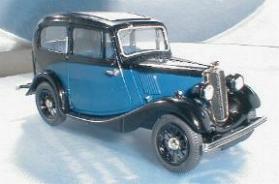 CM17 - MORRIS 8 SERIES 1 & 2 SALOON
Blue/Black, Red/Black, Green/Black or all black available in Series 1 or 2 format. Please enquire re colour availability.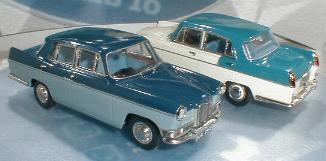 CM16 - RILEY 4/68 & 4/72
4/68 In Damask Red over Old English White
4/72 in Arianca/Sandy Beige or Almond/Porcelain Green
4/72 - Trafalgar Blue/Smoke Blue - SHOWN
4/68 - Florentine Blue/Old Eng White - SHOWN
Limited Edition 350 only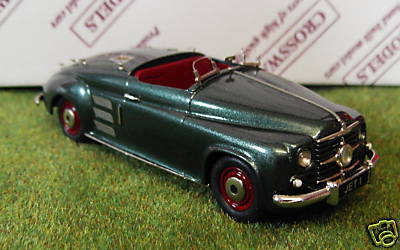 CM15 - ROVER GAS TURBINE PROJECT - JET 1
Finished in met Grey/Green with deep red interior and many separate plated and photo etch parts.
LIMITED EDITION 200 ONLY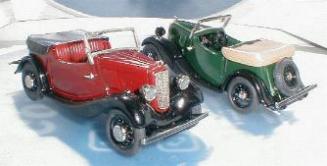 CM14 MORRIS 8 OPEN 2 SEATER.
Available as Series 1 or 2 as shown.
Red/Black, Blue/Black, Green/Black or all Black
Hood cover choice of Black or Tan.
Limited Edition 400 ONLY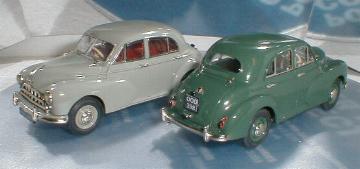 CM13 - Morris Oxford Series MO Saloon
Early Series: Black, Maroon, Platinum Grey & Thames Blue, MID GREEN.
Late Series: Black, Empire Green, Birch Grey & Clarendon Grey.
Limited Edition 400 only
Split between the early and late grille styles.
sold out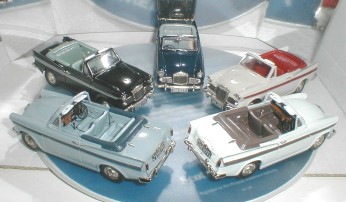 CM12 - Sunbeam Rapier MK III/IIIA Convertible
Available in Powder/Corinth BLUE OR Pearl Grey/Pippin Red
Limited Edition 300 only - SOLD OUT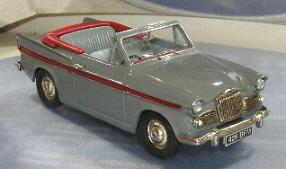 CM12 - SUNBEAM RAPIER CONVERTIBLE
(NEW COLOUR) ASH GREY/PIPPIN RED
SOLD OUT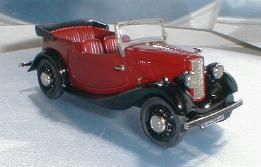 CM11 - Morris 8, 4 Seater Tourer Series 1 or 2
LIMITED EDITION 400 ONLY
SOLD OUT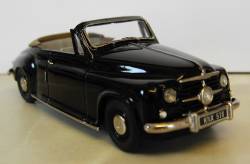 CM07 - Rover 75 Tickford Drophead
LIMITED EDITION 200 ONLY
100 each in Black or Pastel Blue, supplied with hood in both open and closed positions. (Pastel Blue sold out).
now Also available in lakeside green with green interior or ivory with red interior.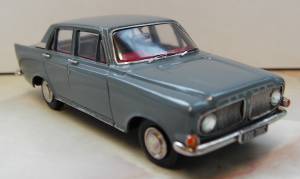 cm09 - ford zephyr mk3
LIMITED EDITION 600 ONLY
Zephyr 4 Spruce Green, Aqua Blue 100 of each
Zephyr 6 Windsor Grey, Imperial Maroon 100 of each
Police versions also available. Check out Police Range
link at top of page

LINK FOR Page 2