Page 2 of the Crossway Civilian range of models that are available.
The link for the Customs is at the base of this page.
CM 02 Wolseley 16/60 & CM 05 MG Magnette MkIV
These models now deleted from the range and sold out. Replaced by CM16 Riley 4/72.

PLEASE NOTE THERE HAS BEEN A PRICE INCREASE WITH EFFECT FROM 1ST APRIL 2007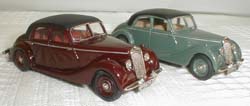 Riley RMA
Total Ltd Ed 600 CM 04 sold out
100 in Black 1946
100 in Autumn Red 1948
100 in Met Green 1950
The RMA models have now been deleted from the range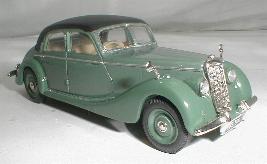 RILEY RMB still available.
GC 07
Riley RMB SALOON
Light met Green over Almond Green wings.
Also available in Police & Rally format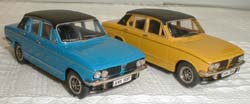 Triumph Dolomite Sprint
Total Ltd Ed 600 CM 03 OUT OF STOCK
100 each in Carmine (SOLD), Pageant Blue or Vermilion (SOLD)
25 in Mimosa Yellow - SOLD
25 in Inca Yellow - SOLD
Police version also available, check AUTHENTIC POLICE link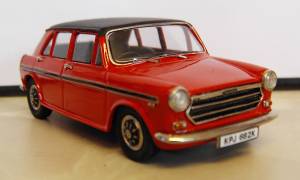 Crossway have produced an extensive range of BMC/BL 11/1300 models, left is shown CM 10 morris 1300GT in Blaze
CM08 - Vanden Plas 1300 - deleted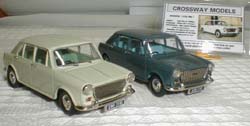 In this range we also produce the CM 06 Austin-Morris 1100 Mk1 Total Ltd Ed 400 £85.00 Austin in Alaskan Blue, Morris in Fiesta Yellow, 100 only of each colour. There is also a Black Austin 1100 Oxford City Police version and a Morris 1100 Liege-Sofia-Liege Rally version as driven by Pat Moss.
Check out our AUTHENTIC POLICE & RALLY links for more variations of our 1100 models.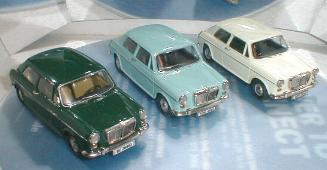 JMR 007 MG 1300 Mk2 in Bermuda Blue & Snowberry White
ALL SOLD
Few only produced in British Racing Green in LHD format for Swiss customer - SOLD

Remember
To read accurate reviews of most of these models check the REVIEWS link at the top of the page

Link on the picture below to go to the Customs Page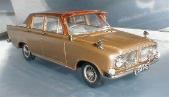 LINK HERE TO RETURN TO PAGE 1
OR TOP OF PAGE